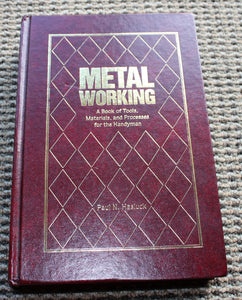 Metal Working Paul N.Hasluck
A Book of Tools, Materials and Processes for the Handyman
Beautiful facsimile of the original 1907 book. Produced by Lindsay Publications. Bound in maroon faux leather with gilt accents across front board and spine. Fine condition. Thick and comprehensive. Showcasing mostly old techniques and patterns. 760 pages
2,206 Illustrations and Working Drawings
 Hasluck attempted to describe every metalworking shop technique and tools, doing a very good job, for circa 1900. . . Publication was 1907, seven years before the first MACHINERY'S HANDBOOK in 1914. This was a time of great change technologically. Where many of the things described are timeless, many others are quite dated. Machines covered in detail by Hasluck, including construction drawings, had not yet matured to their most enduring form as they would in just a few short years. Tools common to us such as the Jacobs chuck and standard lathe tool post had not yet been invented. Metallurgy still thought that crystallization leading to failure occurred in use rather than during heat treatment.
CONDITION
Like New
 Slight bump on spine
No other issues noted
See all pictures
Please contact us with any questions!