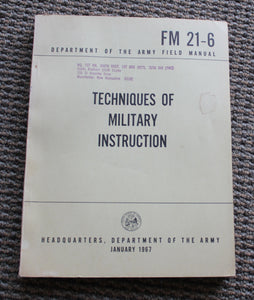 Vietnam War ISSUE 1967 US Army Headquarters Techniques of Military Instruction FM 21-6
Dives into many different techniques that will assist anybody in convincing commuication
229 pages
Copyright: 1967
APPROX SIZE: 10.25"Length x 8"Width .75" Thick
TECHNIQUES OF MILITARY INSTRUCTION
Paragraph Page
Chapter 1. INTRODUCTION 1,2 2
THE ARMY INSTRUCTOR 3-7 3
PRINCIPLES OF INSTRUCTION 8-11 8
PRESENTING ORAL INSTRUCTION 12-16 17
SPEECH TECHNIQUES 17-25 24
QUESTIONING TECHNIQUES 26-32 33
TRAINING AIDS 33-38 41
THE DEMONSTRATION 39-42 56
APPLICATION 43-49 63
PROGRAMMED INSTRUCTION 50-59 73
PREPARATION FOR INSTRUCTION 60-66 93
EVALUATION 67-77 108
INSTRUCTOR TRAINING 78-84 148
MILITARY BRIEFINGS 85-88 155
TELEVISION 89-92 160
Appendix A. REFERENCES 179
LESSON OUTLINES FOR AN INSTRUCTOR
TRAINING COURSE 180
STUDENT CRITIQUE SHEET 225
Index 226
This manual supersedes FM 21-6, 19 May 1954.
CHAPTER 1
INTRODUCTION
Purpose
This manual, designed to assist Army
instructors, presents specific methods and techniques
of military instruction that will tend
to insure successful teaching. All officers and
noncommissioned officers must know how to
teach. As specialists, they may have an excel-
lent knowledge of some phase of the military
profession ; but, to teach others, they must also
know the best methods and procedures for
imparting their knowledge.
CONDITION
Very Good
Water spot and label printed on front cover
No other issues noted
See all pictures
Please contact us with any questions!
19